TWO UNKNOWN BOYS
Most people do not even know their names, they go by to @TWOUNKNOWNBOYS
Jose and Jose are  two young beautiful men from Colombia. Jose Hernandez with no tattoos was born in  May 19, 1996 and Jose Soto with many tattoos was born in June 27, of 1986. They were friends at first and rapidly became really good friends because they had so many things in common, same name, same car, same style, same music and more. One year later they started dating and today they are  Boyfriends.
I met them few months ago  via mutual friends. I saw their Instagram page love their style and fell in love with them right away.They are the first couple from Colombia  to have a mutual Instagram account and they only post photos together. I was debating if to ask because i have seen some couples in the past that had mutual page together but it didn't last unfortunately. I was wondering how does it work?  So i asked  what if…?
What if one day… ? if this is not gonna last ? 
Its not easy to ask something like this but they were super cool about it and replayed that the page will always gonna continue. they are family they will always love and support each other no matter what .
The boys started  DJing  A year ago and they seems to be doing very well they  already  playing around the USA in big parties.  Los Angeles, LA pride main stage , NYC for pride at  and more. I see an amazing future for them.
first part of the shoot we drove Camimo Palmero  in Hollywood  , We shoot the  animal print tank tops and the classic overall plus limited edition Jeans romper.
Animl print and See through.
This summer I been really inspired to bring more of animal print to men fashion world, going vegan made me look on animals in a different way and this collection was full of animals prints like never before.
The boys wearing Leopard joggers with black stripe available with neon stripe as well and the Camo snake print joggers super comfy joggers  mixed with the classic tank tops available in more than 7 colors and more colors will arrive soon.
Black see through flower long sleeves and gold sparkle button down shirts are part of the limited edition styles mixed with the new mesh shorts and black classic joggers.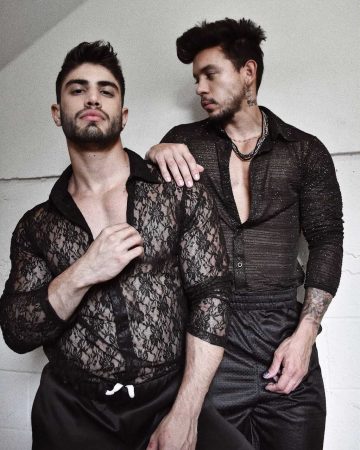 Snake Tank top see through
https://maorluz.com/shop/page/2/ 
Overall Khaki
https://maorluz.com/?s=overall&post_type=product 
 Jeans romper
https://maorluz.com/product/limited-edition/rumper-jeans-limited-edition/
Snake Camo joggers
https://maorluz.com/?s=snake&post_type=product
Leopard joggers
https://maorluz.com/product/pants/cheetah-print-with-black-stripe-side-slim-joggers/   
Link to their SOUNDCLOUD account to check their music
https://www.instagram.com/twounknownboys/
Get 15% OFF using the code:  twounknownboys
Next 7 days only!